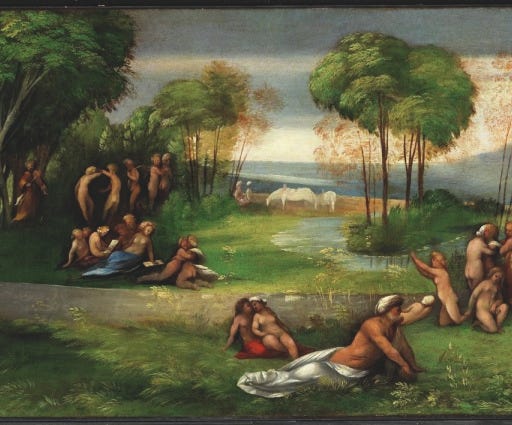 Mar 21 • 23M
The Elysium Aesthetic
Physical Practice (Part One)
Happy Monday! Welcome back to Acting Class Daily and The Elysium Aesthetic. It's the third Monday of the month, which means our focus turns to our Instrument.
When it comes to our instrument, our finish line is both simple and extra-ordinary.
The ability to truly live. To exist in the now.
To simply be.
Today we're introducing a teammate for the ages.
A companion on your journey forward.
Something to challenge you and grow your muscles and at the same time develop with you.
Something where as you go deeper, the work challenges you on a deeper level.
Whatever you need from each day, it matches exactly.
This beautiful work, this practice, will always nurture whatever stage you're in.
It's your friend. It's your teammate. It's got your back.
It's time to roar into the first part of our EA Physical Practice.
---
The Road To Elysium.
This Month's Focus
Class One: The Road To Elysium
Today's Class
Physical Practice (Part One) + (Notes)
Today's Finish Line
A powerful new teammate for our instrument section that will take you from your Daily Body into your Acting Instrument, from rules to permissions, from the weight of expectation to the wonder of possibility, from holding onto protection… to being caught by the moment.
---
New to our work? These four chapters of our overview are where we recommend you start: Kindred Spirits, What Is Good Acting?, Growing Excellence, The Muscles of Preparation.
Questions or challenges with anything we cover? Free subscribers can connect with me live each Thursday at 10 am (pst) on Radio Elysium. Paid members have 24/7 access to feedback on Discord + weekly video coaching with The Sunday Schmooz.
---
---
The Olympic Spirit.
We'll use this space to recap each week's personal crafting work - and share the discoveries and challenges of teammates within our community.
Personal Crafting Work
Physical Practice (The Taste of Touch)
Going from the rules and expectations of your Daily Body into the permissions and possibilities of your Acting Instrument.

Do Nothing for 10 minutes lying on your back with open arms and legs.

Allow the "waterslide of breath" to carry in the experiences around you.

Released with an unapologetic sigh - the exhilaration of confession!

Spark the taste of touch with the playful wiggling of your fingers and toes.

Released with unapologetic SOUND - the exhilaration of confession!

Surrender to wherever the taste of touch takes you (floor, clothes, body, face, hair) Let it lead you as if you were riding a rollercoaster with your eyes closed.
Physical Practice (The Lazy, Sunday Morning Roll)
Going from the taste of touch to the fearlessness of unexpected contact.

The world around you has become the largest, most comfortable bed.

Allow your arms to stretch out wide as you would if waking up to light pouring in through the shades.

Surrender to gravity as you roll into the taste of the unknown contact below.

Released with unapologetic SOUND - an instant ricochet off the experience.

Allow the roll to take you across the floor into the exhilarating, awkward, lonely, loud, subtle, silly, brave and always worthwhile tastes of the unknown around you.
Share your weekly discoveries & challenges and we'll include them on Mondays. Simply hit 'reply' to this email. Members can share anytime on Discord and comment here on Substack:
---
Submit For Cabaret Elysium.
Questions? Reply to this email and I'll get you the answers 👍🏼
---
Put It Up On The Wall!
We had a tradition of capturing quotes on the Elysium walls. The torch has now been passed to the digital realm. We'll use this space to highlight quotes and translate those terms we tend to throw around.
Glossary Gigantum
Doing Nothing; is an opportunity to let go of the daily doings that dominate life. To release watching, guarding, planning, reviewing, judging, expecting, and leading …
To simply exist in the now.
To be.
Doing nothing is not naptime. It's not meditation. It's not a chance to go into a happy place. There is no better or worse place when you exist.
There is just the truth of now.
The taste of living.
Existing as a human be-ing.
As we learn societal expectations, our Daily Body develops ways to protect and care for us in the face of life's unknowns.
The Daily Body is constantly doing. Always running.
Engaging our intellect to watch, to judge, to doubt … using filters and guards to remove us from the taste of living.
To remove us from now.
Releasing the doings of DB & The Int allow the world of everythings around us to ignite our instruments.
To pull us forward into the unknown.
Today's Quote
''Okie dokie, our instrument work has begun."
---
Sample the 'stacks.
In honor of our friends at The Sample (who knew the coolest newsletters to send me … and here we are today!) each Monday I'll highlight a Substacker that's tickling my tastebuds:
Play On.
Music to carry us into our break.
---
Today … members have access to a new Teammate Trampoline - a video example of me going through each of the stages of our EA Physical Practice (Part One).
---